Periodontology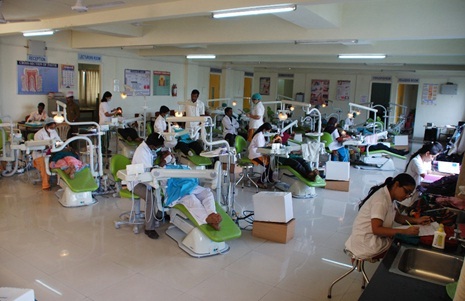 The department of Periodontics provides knowledge & clinical experience dealing with the etiology, diagnosis, prevention & treatment of diseases of the periodontium. This includes surgical placement of implants and its maintenance.
The departmental goal is to provide the students with a strong educational foundation in Periodontology for their future careers in dentistry & to contribute new knowledge through basic & clinical research in Periodontics.
The department has two spacious sections with, undergraduate clinic & postgraduate section, with 34 dental chairs and 11 dental chairs respectively. The department is well equipped with modern dental equipments like lasers, ultrasonic scalers, electro-cautery, light cure units, implant kit, bone grafts & GTR.
The department library is well stocked with numerous collection of Periodontics text books. The UG teaching programme includes theory classes, demonstrations,seminars, clinical posting and one month of internship programme.
Basic treatment modalities rendered in the department are scaling and polishing, root planning, splinting, local drug delivery, periodontal flap surgery, gingivectomy, frenectomy, periodontal plastic surgeries, regenerative & resective osseous surgeries, dental implants and lasers, photo dynamic therapy and other surgical procedures.
Faculty Information