Medical Sciences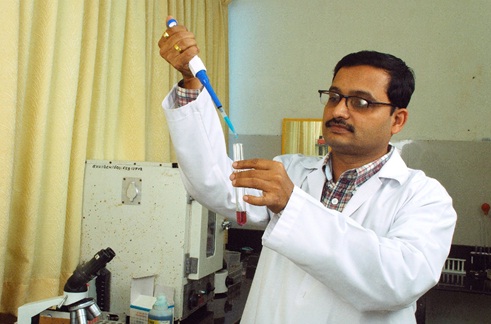 Department of Oral Pathology deals with basic subjects like Dental Anatomy, Physiology, Histology and Oral pathology. It provides the students with basic information about aforementioned subjects enabling them to understand, diagnose and treat various oral diseases. Thus, shaping them to be efficient clinicians, who can impart effective & safe treatment to the patients.
Through the exercise of tooth carving, the students are taught the subject of Dental morphology. With the help of microscopic slides, models, charts and audiovisual aids, basic knowledge of Dental Histology and Oral Pathology is imparted.
Department is well equipped with Histopathology laboratory, Clinicopathology laboratory and Hematology laboratory. Histopathology laboratory is set up for reporting of tissue biopsies, aspiration biopsy and exfoliative cytology. Hematology & clinicopathology laboratory deals with routine blood and urine investigations.
Our Histopathology laboratory is equipped with various advanced facilities such as Cryostat, Hard tissue microtome, Stereomicroscope, Research microscope with attachment Camera & image analyzing software. Advanced diagnostic aids such as polarizing & fluorescent microscopy are utilized for better diagnosis.
Department undertakes multidisciplinary approach with Department of Oral Diagnosis, and Oral &Maxillofacial Surgery for improvised patient care.
Staff members actively participate in research activities and have publications in various national and international journals. Staff members attend conferences & present scientific papers at regular intervals.
Department is aiming to start Immuno-histochemistry laboratory & Microbiology laboratory in near future.
Faculty Information