Public Health Dentistry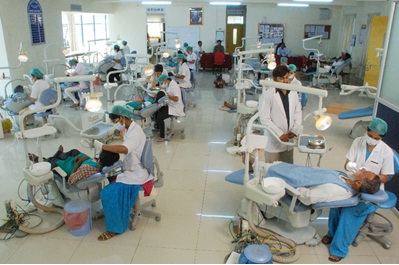 The department is equipped with 16 Dental chairs, Autoclaves & Ultrasonic cleaners. They are used to train undergraduate student to assess oral health status using indices and also for preventive dentistry, application of pit &fissure sealants and fluoride gel.
The department has a well-equipped mobile dental bus with two fully functional dental chairs with all attachments, generator and A.C. with seating capacity for 15 doctors. Health education models are used to provide health education and motivation.
The Dental museum displays, posters and models meant for dental health awareness and education of general public.
The department runs on an excellent Dental Health programme. Main Activities under this are school dental health programme and Community based dental health camps. In addition to these routine programs department also conducts camps as requested by other schools, clubs and residence association. We conduct approx.180 camps per year. We also organize treatment camps in out college & offer 50% concession for the camp patients.
Department has two Satellite Clinic at Sangalwadi and Turchi-fata with well equipped dental chairs. Routine checkup and emergency treatment is done in these satellite clinics, for complex treatment procedures patients are referred to dental college.
The Department also celebrates important days in the calendar year such as World Health Organization Day, No Tobbaco Day, World Environmental Day, to name a few.
NSS activities jointly with the department are being organized in the college, as well as in the city and peripheral places in the form of health camps and school programs. Various other health improvement activities like Blood Donation Camp, Winter Camps and Oral Cancer Awareness Camps are also conducted. Every year, 50 students become members of the National Service Scheme (NSS).
The department promotes research activities that improves health and wellbeing of people. They support the research activities through various disciplines like epidemiology, research methodology and biostatistics.
Faculty Information